Oma­Mehiläinen service makes your transactions easier
Sign in to OmaMehiläinen with your bank details
Passive session will be automatically logged out after 30 minutes.
OmaMehiläinen is Mehiläinen's free and secure online service which makes taking care of your and your family's health issues easier. Through Oma­Mehiläinen you can use the Digital Clinic, an online reception, where you can find help to all of your health concerns 24/7.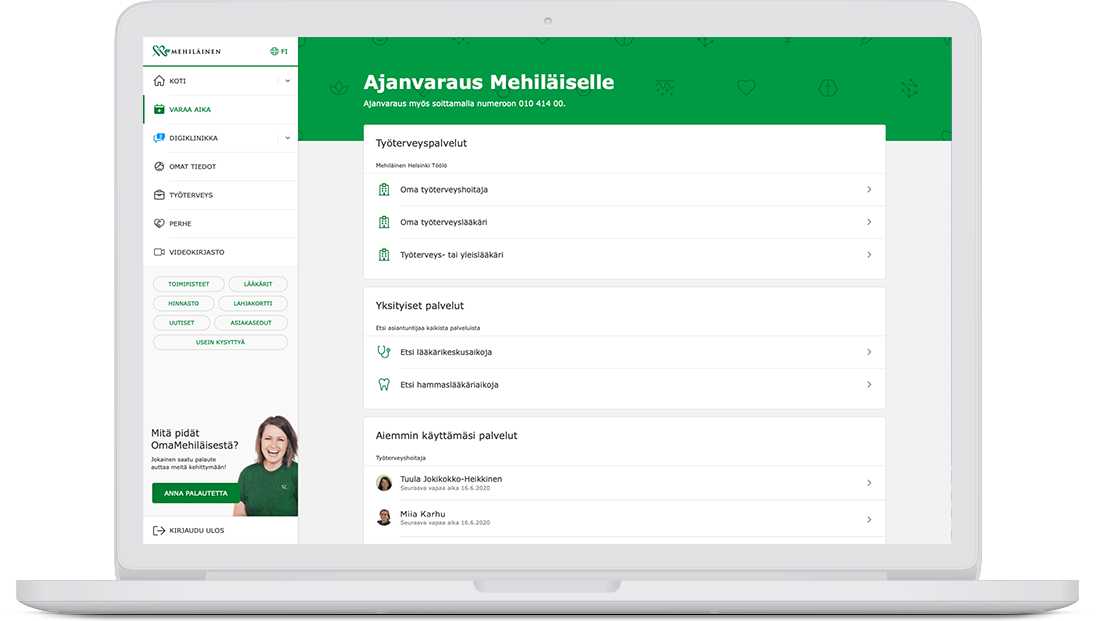 Oma­Mehiläinen's features
Booking

Easily make an appointment with your chosen physician

Check-in

Sign in before your appointment and be able to see your appointments location

Digital clinic serves 24/7

Get assistance with all your health-related concerns 24/7 in the Digital Clinic

Prescription Renewal

Conveniently renew your prescriptions

Health information

Hold on to your examination results and prescriptions securely

Browse examination results

Receive a notification on examination results that are ready

Family connection

Link the data of your child or another family member into the app, which allows you to make appointments for them, to renew their prescriptions, view their examination results etc.

Occupational questionnaires

You can answer to the electronical questionnaire assigned to you

Log in with your fingprint

App Only

Speed up your errand by logging in with fingerprint- or face recognition

Reminders

App Only

View your booked appointments and receive reminders

Mobile benefits

App Only

Receive information on issues and services related to health and well-being
Download the Oma­Mehiläinen mobile app
The free OmaMehiläinen service is now also available for your phone! By downloading the OmaMehiläinen mobile app you have access to the Digital Clinic 24/7, you can renew your prescriptions wherever you are, and you have your family's health information always within your reach.